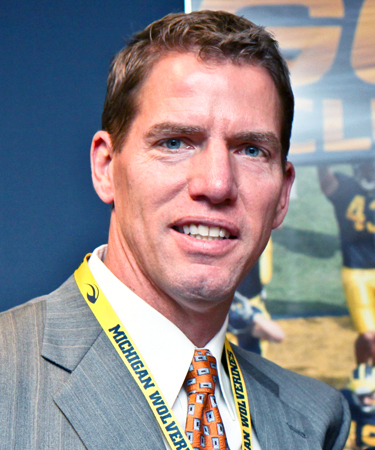 Timothy M. Schulte
Founder and President of Mid-America Sports Marketing Group
Timothy M. Schulte learned more than Xs and Os playing football for legendary coach Bo Schembechler at the University of Michigan. He learned success on and off the field is a direct result of the preparation, hard work and dedication an individual puts into a chosen endeavor. While Schembechler used those ideals to become one of the winningest coaches in Big 10 history, Schulte has found success in the marketing and event management field.
After graduating the University of Michigan as a first-team Academic All Big 10 scholar athlete, he earned a MBA in Finance at the Indiana University Kelley School of Business. Following this solid academic foundation, Tim headed to Wall Street to work at Merrill Lynch Capital Markets as an institutional fixed-income salesman.
A passion for sports remained in Schulte's heart, so he developed an opportunity in Chicago to build impact events which offered unique cause-marketing solutions and new business development strategies for corporate America. This insight brought him to create Mid-America Sports and Events Group, Inc. in 1992. Schulte again recognized preparation, hard work and dedication are the keys to success. This philosophy has been the driving force defining and sustaining the company for over 25 years and keeps his list of corporate, charity and celebrity clients growing.
Read More
Over this span, he has orchestrated a wide array of events, including celebrity golf outings for the Pro Football Hall of Fame and the National Hockey League Coaches' Association; corporate travel programs for Fortune 1000 companies; charity fundraisers for local and national causes; and strategic campaigns focusing on corporate promotions, sales and marketing.
Additionally, Tim is involved with the Sports and Entertainment aspects of IU's Kelley School as a guest speaker and lecturer and has appeared on various sports marketing and event management panels. He is also a Board member of the Michigan Football Alumni Network (MFAN.) He, his wife Alison and their three children (Megan, Taylor and Cameron) live in Chicago.
"Tim Schulte and Mid-America Sports could not have been better partners for the National Hockey League Coaches' Association. For our inaugural golf outing in Chicago, they identified and contracted with the best and most appropriate club in Chicago (Beverly Country Club), sold sponsorships to brands like lululemon and Diageo which benefited the event greatly, then executed a unique and memorable event we will be able to build upon for years to come."
Michael Hirshfeld
Executive Director/National Hockey League Coaches' Association
"Mid-America Sports' ability to transition to Dallas and execute deals in a new market for our second annual event was impressive. They identified and contracted with our two biggest venue partners - Trinity Forest Golf Club (host of the NHCLA Celebrity Golf Classic) and The Stadler (host hotel, celebrity and golfer accommodations and host of the NHLCA Coaches' VIP party.) We trusted them with sensitive information and their ability to build relationships with our NHL host - the Dallas Stars - was beyond anything we hoped for. They never disappointed - I recommend Mid-America Sports to anyone looking for a true 'get after it' partner."
Michael Hirshfeld
Executive Director/National Hockey League Coaches' Association
"In 2001 I had a dream to create a successful and unique outing to benefit the Off the Street Club. With the help of Mid- America Sports that dream has been reached and surpassed as we have raised more than 3 million dollars for the club. I could not be more satisfied and I know the Club feels the same!"
Jack Klues
Retired Chairman and CEO, Vivaki
"I have played in a lot of celebrity golf tournaments across the country and without a doubt the team at Mid-America Sports consistently produces a product I am proud to have my name on.
Mike Ditka
"Working with Mid-America Sports since they opened shop in 1992 has been my sincere pleasure. Their staff is intelligent, accountable and honest and always delivers. As Title Sponsor and client for many of the events, I always know I'm going to get an exceptional program from gift ideas, client entertainment to travel arrangements - all cost-effectively."
Thomas Reedy
Managing Director, ITRACS
"Everything was terrific - the food, the set-up, the staff and the service - and we know none of this was as easy and seamless as it appeared. The hard work and attention to detail of your team make it go! One of my best decisions was turning the management of this event over to Mid-America Sports."
Mark Tupper
Vice President, CBS Network Sales
"As tournament chairman of the American Cancer Society's Chicago Select Golf Invitational, I have recommended Mid-America Sports to friends and close business colleagues who want a successful and exciting event. They have never let me down and now enjoy ties to my associates. Their assistance is invaluable."
Keith Bank
Founder and Managing Partner, KB Partners
"Swing for the Kids has provided all of the funding for Off the Street Club girls programs since 2001. Without the help of Mid-America Sports, none of this would be possible."
Ralph Campagna
Executive Director, Off the Street Club
"You and your event staff demonstrated remarkable flexibility, creativity, planning, execution and composure. All of us here at Twin Orchard Country Club were both impressed and appreciative of working with such professionals."
Gavin Speirs
GM/COO, Twin Orchard Country Club
2599 Chestnut Avenue
Suite 1000
Glenview, IL 60026